Loading
Mr Kikuchi, who is listed as the director of a Japanese restaurant in Richmond, is in a non-life-threatening condition at The Alfred hospital, and investigators hope to speak to him in coming days.
Forensic investigators will remain at the "complex" scene until at least Thursday.
"We will speak to the survivor, the 50-year-old male. Hopefully, he may or may not be able to shed some light into how the fire commenced," Victoria Police Assistant Commissioner Robert Hill said on Monday.
"It is a scene that I'm told did have some materials in terms of inflammable liquids that were part of a legitimate business that I understand the surviving party was involved in.
"We will be in dialogue with family members of the deceased to understand whether or not there was any history of conflict between the parties concerned. But … it is purely speculation, and that is not part of our business at this point in time."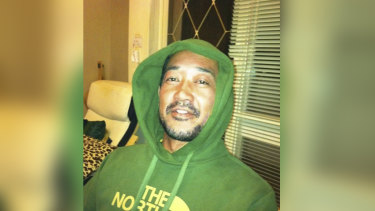 Next-door neighbour Rahul Malhotre said he was woken by a blast before he heard a man shouting "please help, please help".
"I ran out from my house and saw fire in the garage. The man was putting water in bins," he said. "My neighbour called the fire brigade and within five minutes they were there."
He said that Mr Kikuchi was shouting "please save my daughters, please save my daughters" and was trying to enter the building but police wouldn't allow him.
Neighbour Hanish, who did not want his surname published, was also woken by what he said sounded like a "big blast which shook all the buildings".
"I heard the guy shouting near the garage, 'help, help'," he said. "He was shouting so loud, top of his voice.
"I told him I called the fire services and to get out of the area. He wasn't listening, he was in panic … He was trying to get inside from the garage, control the fire from the garage, and in a panic moment forgot [to tell us] about the kids. The stress, he was not able to think properly.
"And after a couple of minutes when the fire services came and said you have to evacuate, this guy started running and shouting, 'my kids, my kids, my kids are upstairs' and then he went … and tried to go inside the house."
After about 30 minutes, the firefighters brought the father outside to the road.
"He was very desperate, in panic and his back was burned, his face was black with smoke and ash and the emergency services took him into an ambulance," Hanish said.
Both neighbours said they seemed like a happy family.
"They were lovely kids, always jumping, dancing, doing something funny on the stairs," said Hanish. "My housemate is so traumatised, he doesn't want to open the blinds because every morning he would see this couple and the kids going past."
Prior to having children, Ms Okano worked as an early childhood educator at a childcare centre in the city. Her former boss, Michelle Belli, said she loved her job.
"All she wanted to do was watch and see children grow and learn and live their full potential, always nurturing, and never had a bad word to say about anyone," Ms Belli said.
"It came out with her children. They were so loved and so cared for … she never forgot her family overseas and wanted her children to have that connection with Japan and her family in Japan."
Ms Okano's friend, Kelly Vu, visited the scene on Monday morning. Ms Vu got to know Ms Okano and the three girls as they regularly rode their bikes past her home on their way to a nearby lake during lockdown.
She said they were a "beautiful family, beautiful children" and that Ms Okano was "a lovely mother that looked after the three girls very well".
"Now and then I would invite them inside and make lunch for them, make cookies and let them play around my backyard," she said. "The older one loved the garden and I gave her mother some plants."
"She was a lovely lady. Very soft, very pleasant, we were able to talk a lot."
Mr Kikuchi and Ms Okano had known each other for about 10 years before they had children, according to Ms Vu.
Ms Okano spoke to her girls in Japanese, Ms Vu said, and doted on them constantly.
"They were a happy family, [a] very, very happy family. It was too early for them to leave this world. They had a lot to offer this world, those beautiful children. I haven't slept, I haven't eaten," she said.
"I look out the window on my balcony and say, 'I can't hear the girls' voices anymore. I can't see their bicycle riding anymore."
Mr Kikuchi bought the Glen Waverley home in 2014, according to property documents.
Staff at the Consulate-General of Japan in Melbourne were in touch with Ms Okano's grieving family in Japan on Monday.
Anyone with information is urged to contact Crime Stoppers on 1800 333 000 or make a report at www.crimestoppersvic.com.au.
Catch all the day's headlines
At the end of each day, we'll send you the most important breaking news headlines, evening entertainment ideas and a long read to enjoy.  Sign up here.
Simone is a crime reporter for The Age. Most recently she covered breaking news for The Age, and before that for The Australian in Melbourne.
Ashleigh McMillan is a breaking news reporter at The Age. Got a story? Email me at a.mcmillan@theage.com.au