But there's not just more data available – experts are now looking for different things in the data as well.
Since Australia's last official recession in the early 1990s there's been a growing recognition that traditional economic indicators are an inadequate gauge of our collective welfare.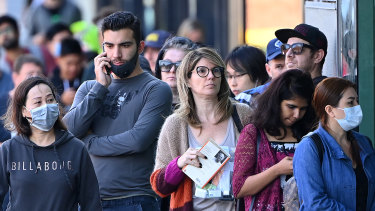 Gross domestic product, the conventional bellwether of national performance, will be able to tell us how much the value of goods and services produced in Australia falls due to the pandemic. But there's a lot more to life than what GDP measures.
Economists the world over have been paying more attention to other, less well measured, factors that affect our welfare. More sophisticated techniques have been developed to work out how national wellbeing, not just national production, is changing.
Two valuable measures of Australia's wellbeing measures have just been released.
One is the Herald/Age-Lateral Economics Wellbeing Index which adjusts gross domestic product to take account of changes in education, health, work life, social inequality and environmental degradation. By doing this it creates a much broader measure of national progress than GDP.
The other is the National Australia Bank's Australian Wellbeing Index which draws on a quarterly survey which asks respondents to assess their sense of life satisfaction, life worth, anxiety and happiness.
Dean Pearson, NAB's head of behavioural and industry economics, says the index can help provide "a clearer picture of how Australians are coping during this time of crisis".
These relatively new wellbeing indicators are important because they draw attention to costs from the coronavirus crisis largely overlooked by traditional economic measures like GDP.
NAB's wellbeing survey, which was conducted as pandemic restrictions were introduced in March, revealed a disturbing jump in anxiety.
It found more than four in 10 Australians were "highly anxious", which was by far the biggest proportion in the seven year history of the survey.
"A growing number of Australians are living with a heightened sense of worry," NAB's report said.
Anxiety rose across nearly all demographic groups but the largest increases were among those living in an apartment and those over the age of 65. The share of Australians describing themselves as happy was well down compared with a year earlier.
Loading
Traditional economic indicators can pick up some of the financial impact of mental health problems, such as days off work. But the true social cost is so much higher – those with a mental illness report much lower levels of wellbeing than average.
New modelling by the Herald/Age-Lateral Economics Wellbeing Index puts a dollar figure on the wellbeing cost of higher levels of anxiety and depression that will be caused by the pandemic – a staggering $29.7 billion each quarter.
And the report warns of other big hits to our wellbeing. The decline in the quality of schooling and adult education caused by coronavirus-related disruptions will cost Australia more around $13 billion a quarter in lost knowledge and skills. Higher unemployment and underemployment in the wake of the pandemic will be another major drag on our national wellbeing.
"Unemployment does not only blight people's economic lives, it blights their wellbeing as well," says the index's creator, the economist Nicholas Gruen.
Loading
The likelihood that many more people will become the long-term unemployed, defined as being out of work for a year or more, will be especially damaging to national wellbeing.
Long-term unemployment results in skills atrophy – when work skills and know-how deteriorate through lack of use and training. But those out of work for a long period are also are more likely than others to become socially isolated and suffer mental and physical illnesses.
If the unemployment rate climbs to 10 per cent later this year, as forecast by federal Treasury, the Herald/Age-Lateral Economics Wellbeing Index predicts that will eventually result in an extra 95,000 people being out of work for a year or more.
All eyes will be on traditional economic indicators like GDP and unemployment in the weeks ahead.
But the wellbeing indicators now available can help us get a deeper understanding of how the coronavirus crisis is affecting Australians. They can also help shape effective policy responses.
We should listen to what they are telling us.
Matt Wade is a senior economics writer at The Sydney Morning Herald.