In the end, it's taxpayers picking up the bill.

Simon Birmingham
The Morrison government frontbencher said he understood why state governments wanted to attract jobs into their jurisdictions, but warned it could spark a wave of businesses looking for government handouts.
"This has the potential to represent the worst of federalism and to spark a wave of corporate welfare-seeking by big business if we sort of have big companies around the country just auctioning off their head offices to states and territories," Mr Birmingham said. "In the end, it's taxpayers picking up the bill."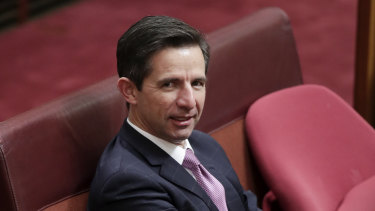 Qantas said it will consider merging the Qantas and Jetstar headquarters, where 5000 and 1000 people work, respectively, in either Mascot, Melbourne, Brisbane or at the new Western Sydney Airport.
Victorian Premier Daniel Andrews said his government would make a "very attractive" offer to Qantas to keep Jetstar where it is and attract Qantas' head office and heavy maintenance work to the state, which is economically reeling from the effect of its ongoing COVID-19 lockdowns.
Loading
NSW Treasurer Dominic Perrottet for his part said his state would offer "every assistance" to Qantas to keep as many jobs in the state as possible and combine the Qantas and Jetstar offices either in Mascot or at Western Sydney Airport. The Queensland government also pledged to fight to keep the 750 engineering jobs in Brisbane.
Qantas said on Tuesday it was looking for savings from its $40 million annual spending on leased office space as part of a cost-cutting drive brought on by the COVID-19 pandemic and in recognition that it will be a smaller company for several years.
The airline has announced around 8000 redundancies – close to a third of its workforce – since the start of the pandemic, which has forced it to ground most of its planes since March and cancel all international flying until the middle of next year.