Ms Ryan said teachers needed time to revise their planned lessons.
Loading
"Teachers are going to need some time to transition their instruction back to face-to-face [learning] considering they've planned for a whole term of remote learning," she said.
Another teacher, Tania White, said too much work had gone into remote learning to stop now.
"I'd resigned myself to all of term two and would prefer that to going back and possibly being sent home again," she said.
Cam Denham, who teaches in a Prep-12 school with 2450 pupils, said all students couldn't return at once.
"If it's going to happen this term, it needs to be staggered," he said.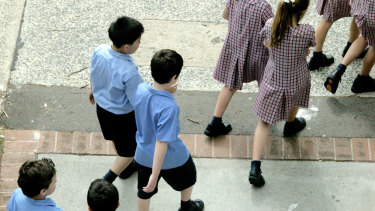 Prime Minister Scott Morrison included the resumption of face-to-face teaching in step one of his three-stage plan announced on Friday to bring Australia out of coronavirus lockdown.
But he said that state and territory leaders would be responsible for determining how and when changes would happen.
Victoria is the only state without a timeline to return to school before the end of term two.
Parents are divided on the return to school, even after weeks of remote learning, many of them juggling at-home lessons with full-time work.
Mr Andrews said on Friday he would give parents and teachers a lot of notice of any change to that plan.
"We've always said people should plan for term two if you can learn from home you should, but if that could be changed safely we would give people as much notice as possible and that hasn't changed," he said.
"It's got to be done right. There may be time required to move from announcing a change to the effect of that."
Australian Principals Federation president Julie Podbury said a substantial period of notice for the return was essential for school staff.
Loading
"We would like at least a week's notice prior to any changes occurring so that people can do the adequate preparation," she said.
"Certainly there's a need for a pupil-free day as the very first thing to happen, so that everyone can gather their thoughts, have team meetings appropriately and get things in an appropriate state for kids to resume."
She also said that the return of prep-to-year-two students and VCE students should be prioritised.
"We would like some focus on those two groups in the early stages of whatever we do," Ms Podbury said.
"The plan for special schools needs a lot of very careful consideration as well."
The Independent Education Union said several measures were key to returning students to on-site learning, including social distancing and maintaining hygiene standards.
It advised schools to limit large physical gatherings such as assemblies, make sure any sick staff or students were identified and then followed isolation guidelines and to ensure staff could access covid testing.
Anna is a breaking and general news reporter at The Age.