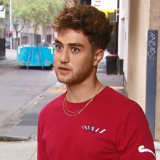 "I'm not going to just ditch this guy, most people would do the same thing."
Mr Nacass escaped with lacerations to his leg, which required stitches, but is keen to get back out in the water.
"I really want to go back soon," he told Nine. "Just when my leg, it's OK. I'm going to go back to surf soon, I'm OK."
The terrifying ordeal happened to be caught on camera by Graham Blade who was filming from a look-out.
"I actually saw it pop up behind him and knew it was real," Mr Blade said.
The footage shows the shark following behind the pair while they frantically made it to shore.
"We're paddling in, you can see the shark behind, I didn't know it was still there," Mr Sedunary said.
He wasn't deterred to go back out for a surf, either.
"When you're out in the water, you know sharks are out there. I'm pretty keen to get out there this afternoon. Get back out on the horse, as they say."
The Department of Land, Environment, Water and Planning and Parks Victoria have been contacted.