Loading
Last month, The Age revealed Melbourne's leading trauma hospital, The Alfred, needs more than $2 billion to overhaul leaky roofs, cracking walls and flooded wards.
Almost 67,000 patients visited the emergency departments in Wodonga and Albury in the 2018/19 year, with demand soaring by up to 15 per cent annually. The hospital network Albury Wodonga Health is overseen by the Victorian health department but funded by both states.
"We're seeing the same volume of emergency patients as some of the major tertiary centres like The Alfred," Dr Clancy said. "Yet we still don't have a coherent plan ahead."
Dr Clancy said patients were waiting in the emergency department an average of nine hours for a bed. Others in the grip of severe mental health crises were deteriorating after spending days in the emergency department.
"There is real harm happening to patients and real hurt and it's extremely distressing for staff as well," Dr Clancy said.
Anaesthetics director Barbara Robertson said the situation was complicated by critical services being divided between the two hospitals with the intensive care unit at Albury and the obstetrics and theatre in Wodonga.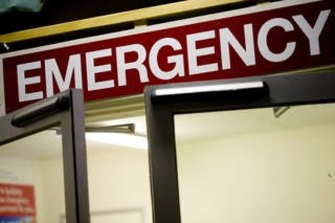 "We've got daily problems with having two sites and trying to spilt resources and that's got real implications," she said.
Patients awaiting surgeries including joint replacements, gall bladder or hernia removal and hysterectomies are being turned away daily because there are not enough beds, Dr Robertson said.
Both doctors pleaded for funding to develop a ward structure so patients could be moved from the emergency department and admitted into hospital beds.
"Then we need to focus on planning for and building a single, purpose built, state-of-the-art health centre that meets all the needs of both hospitals into the future," Dr Robertson said. "Because at the moment we are just holding it together."
Associate Professor Rait said infrastructure at Albury and Wodonga hospitals was inadequate.
"They are facing the pressures of the growing regional population, an older age group, greater burden of chronic disease and invariably it's becoming a big problem," he said.
Albury Wodonga Health chief executive Michael Kalimnios said a detailed plan of the health service's future requirements was undertaken in 2017. "This is guiding our current plans to address the urgent need for an improved ED facility at Albury and to plan for additional theatres, an expanded ICU and transfer of maternity services," he said.
While the plan was agreed to by both the Victorian and NSW governments, no funding has been allocated.
Australasian College of Emergency Medicine president John Bonning said measures were needed to lift the standard of care for patients in rural hospitals, particularly dangerously long wait times for mental health patients in emergency departments.
"One significant issue faced by many rural and regional hospitals is attracting and retaining specialist staff," Dr Bonning said. "This is essential to ensure clinical leadership and quality care for ED patients."
A spokeswoman for Victorian Health Minister Jenny Mikakos said the government had commissioned master planning, a feasibility study and community consultation for a new emergency department at Albury Wodonga Health.
"The Victorian Health and Human Services Building Authority is working with Albury Wodonga Health and NSW Health on potential redevelopment options for the Emergency Department at Albury Base Hospital and we'll have more to say about this very soon," she said.
The government said Albury Wodonga Health received $16.6 million in operational funding this year, and another $6.3 million as part of the Regional Health Infrastructure Fund.
Opposition health spokeswoman Georgie Crozier said regional hospitals were being left behind.
"It's simply not good enough that hospitals aren't being upgraded or maintained, because Daniel Andrews has spent so recklessly that he's maxed out the state's credit card," she said.
Melissa Cunningham is The Age's health reporter.
Benjamin is a state political reporter