Melbourne was tipped to mark its coldest April day since 1996 on Thursday, with a forecast high of 12 degrees, but it has been warmer than expected and the mercury is set to reach 15 degrees.
Heavy rain will again lash the state on Friday and the temperature is forecast to drop to a high of 12 degrees, which would make it only the third time in recorded history the temperature has dipped below 12 degrees on May 1.
Up to half a metre of snow will blanket deserted ski lodges in the alpine regions as temperatures dip to -2 degrees and snow falls as low as 800 metres. Mt Buller had more than 100mm of rain over the past 36 hours.
On Wednesday Melbourne was belted with rain that caused flash flooding and felled trees.
The State Emergency Service responded to more than 280 callouts, including a camper near Wangaratta who woke up to find themselves trapped on a patch of land surrounded by flooding. A boat was required to rescue the camper.
About 125 calls related to fallen trees, while about 70 concerned flooding and another 70 building damage.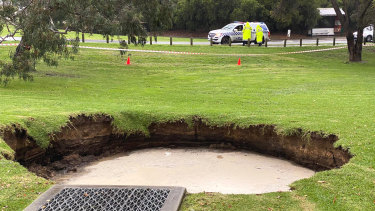 Outside Melbourne, Numurkah, Benalla and Shepparton were the busiest spots for the SES.
About 25mm of rain fell on Melbourne CBD on Wednesday, while about 40mm fell in the eastern suburbs from Springvale to the Dandenongs. The western suburbs experienced lighter downpours of about 20mm.
The rain caused a sinkhole to open in a park in the inner-east suburb of Kew. A pipe used for stormwater access broke and created a hole 12 metres wide and five metres deep.
Wednesday's highest wind gust was 124km/h at Falls Creek, while closer to the city Frankston recorded 65km/h.
The chilly conditions forecast for Friday, when westerly winds will make it feel colder than 10 degrees, will coincide with 25-30mm of rain in the eastern suburbs and less than 10mm in the west.
"It's going to be a cold and unpleasant day," said Bureau of Meteorology senior forecaster Chris Arvier.
Paul is a reporter for The Age.