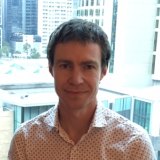 "Which is why my mum and I told them to cancel the gluten-free part, and we'll just suffer through that because we ended up getting no protein."
Guests told The Age the meals had improved for dinner on Wednesday, their third night in quarantine.
Vegan woman Alex, 24, arrived on Sunday and was served cauliflower soup for lunch with a selection of snacks she can't eat: cheese and crackers, jelly, and sour cream and chive-flavoured chips.
Like Mr Wilkinson, she was served a bed of rocket for dinner on Tuesday.
"I just broke down after that. I'm jet-lagged, I'm hungry," Alex said. "I ate the container but it didn't fill me even for a minute."
Along with her dinner, Alex was given a Crown menu for pricey meals to order at her own expense ("an absolute slap in the face") though none of those options were vegan anyway.
She was relieved to have a substantial, vegan, dinner on Wednesday and hoped the meals would keep improving so she doesn't get sick after 14 days.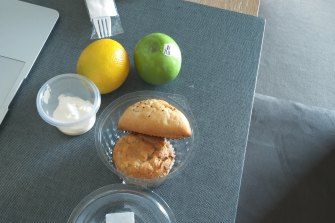 Freddi Saleeba, 29, can eat everything but still says he's getting hungry between meals.
"I feel the food is the one downside, but also not so bad that I want to go and complain to the people on the phone, you know? … Overall the quality of the food is not too bad, but there's not too much of it. I have been a bit hungry between meals."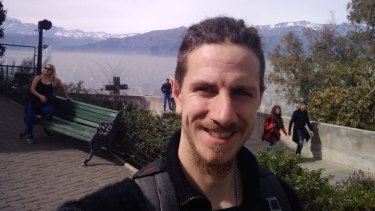 Another guest at the Crown Promenade, Alex Oh, has allergies including lactose intolerance and can't have dairy.
"They gave me yoghurt and milk included in the breakfast, so that says a lot about how this is run," Mr Oh said.
"Personally, I'll be ordering food from Crown on their menu sometimes when I am bored by the hospital food they are serving."
All the guests described having piles of junk food that keeps on coming. They can eat what's in the mini-bar free of charge but need to pay for any extras – and there's no alcohol available whatsoever.
A government spokesman said hotels were providing three meals a day based on the allergies and special dietary needs of every guest.
"If these requirements are not being met, guests can contact the dedicated support service," the spokesman said.
"Some hotels are working to make it possible for additional food from the hotel kitchen to be ordered at guests' expense."
Hotels are responsible for feeding the returned travellers. Crown is catering the guests through Crown Banqueting kitchens.
Food deliveries are not allowed. But guests can arrange for clothes, medication, books and electronics to be delivered through a dedicated service. Those deliveries would be sanitised on arrival, a government spokesman said.
All guests said the four-star rooms were great and appreciated the need to be quarantined.
The Victorian government has so far put guests up in the Crown Promenade, Crown Metropol and the five-star Crowne Plaza (which has no connection to Crown).
Rachel is a breaking news reporter for The Age.