"The smoke is so thick here," he said on Friday. "We don't know what's going to happen and if this wind is going to turn and blow our way."
He said they will stay in town unless told to evacuate, keeping the store open for supplies. "I've got a community to look after."
"They reckon it's just like a disaster zone. Like a bomb has gone through it," he said.
"Dead animals on the side of the road, fences down, trees done everywhere. Everywhere you go is black."
The town of Dartmouth, about 70 kilometres south of Tallangatta, is preparing for a fight, with many residents staying on.
Diggers have been used to build fire breaks around the community. Mr Scales was bringing in food supplies in case the town became isolated.
"We're sticking it in to try and defend our homes and the town," local councillor Aaron Scales said. "People who went through the 2003 bushfires are on edge." But we're all prepared and we've had plenty of warning."
Towong Shire mayor David Wortmann, based in Granya, north of Tallangatta, said the situation was "devastating". He was yet to confirm the loss of homes and livestock because many areas were still cut off. Nearby Walwa is without power, mobile service and radio.
In Victoria's Alpine region, many towns rapidly emptied out, as holidaymakers, residents and businesses evacuated, ahead of a wind change and high temperatures.
Valleys through the alpine area are expected to reach into the low 40s, with temperatures of around 30 forecast for ski towns Mt Buller, Mt Hotham and Falls Creek.
In Bright, east of Wangaratta, dozens of businesses, including Bright Brewery, temporarily closed as people began leaving the area. On Friday, brewery operations manager Rupert Shaw said the town was very smoky.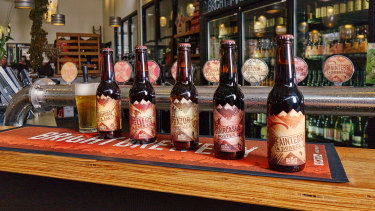 "It's about 300 metres visibility," he said. "I think most people are leaving."
He hoped forecast rain would arrive on Sunday so they could reopen – "but we're not going to take any risks."
Eddie Wilson was heading to Melbourne with his young family – and other precious goods such as photos and his favourite skis . "We'd rather get out and be all of us safe – you can always rebuild a house."
Mr Wilson said 20,000 tourists usually flocked to Bright over summer. "People have been leaving over the last three days. There's no panic; everyone's just pulling up stumps early."
At Mount Hotham, only the CFA and essential services staff remained.
Resort CEO Jon Hutchins said one couple, Alexander Miller and Helene Froisland, had planned to marry on the mountain on Friday, with 25 Norwegian guests in tow.
Instead, with help from a host of people, they hastily rearranged a new wedding venue at Fairfield Boathouse.
"It's probably quite unique, having to have a back-up storm for a snow or blizzard, but also a plan for a bushfire as well," said the groom.
Twenty campers and hikers left Mt Stirling after a last-minute sweep of the area.
A skeleton staff were at Mt Buller, ready to turn on the snowmaking system to pump water if needed.
In Whitfield, to the north of Mt Buller, Valley View Caravan Park owner John Remman left for Melbourne on Friday after farewelling his last 30 guests.
"We got them to pack up last night because things were a bit ordinary and most left this morning."
Tammy Mills is a Crime Reporter for The Age.
Larissa is a reporter and producer