"We're looking a bit like drowned rats I think. It was just good to get out there.
"It's like, big deal. Get wet and go home, have a hot shower and you're ready to go."
From Wednesday, up to 10 people are allowed to congregate outdoors and people are allowed to fish, play golf, go boating or hiking.
Premier Daniel Andrews announced the changes on Monday, prompting a flurry of business owners including Ms Collins to alert their customers that services would resume from Wednesday.
Ms Masci, a hairdresser, has been taking classes with Ms Collins for four or five years and was keen to get back after weeks of trying sessions through video conferencing site Zoom.
"When she sent the email out, I won't say what I said, but it was 'eff Zoom'," the Middle Park woman said.
Ms Collins is running two group classes on Wednesday, which were down on her usual numbers of about 10 people, as well as two personal sessions.
"I'm really pleased to be able to work properly again," she said on Wednesday morning before the 9.45am class.
Some of her clients started texting when Mr Andrews announced the news that fitness classes would be able to resume, with up to 10 people keeping their distance.
"Most of them have been texting me, 'Have you heard?'," she said. "So, pretty enthusiastic."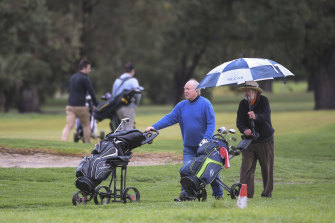 Ms Collins plans on keeping some of her Zoom classes, but she only charges about half as much for online sessions and is glad to see her business ease back to normal.
Demand from golfers to tee off at Yarra Bend golf course in Fairfield exploded after the Premier's announcement on Monday, according to general manager Kieran Fankhauser.
"We had 1700 phone calls on Tuesday from people wanting to play," Mr Fankhauser said.
"A normal day is 200 or 300. We've had five people answering the phones but they couldn't keep up. We're almost booked out for this entire week already, with probably 180 or 200 players per day."
Players are adhering to social distancing rules, including playing in groups of two, 10 minute gaps between groups and staying in their cars until it's time to tee off.
"Our second group had a hole in one this morning," Mr Fankhauser said. "I thought that was a nice, fitting way to mark the recommencement."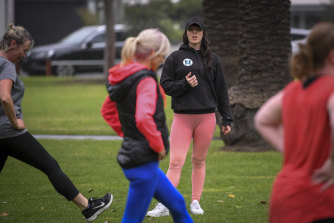 Rachel is a breaking news reporter for The Age.
Michael is a reporter for The Age.