Stocks moved broadly lower on Wall Street on Monday as the market gave back some of its recent gains following a record-setting run.
The benchmark S&P 500 index has risen five straight weeks, notching multiple all-time highs along the way. It's on track to end the month about 2.6 per cent higher, its fourth-consecutive monthly gain.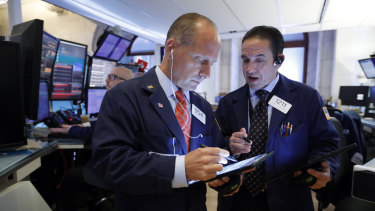 The S&P 500 fell 18 points, or 0.6 per cent, to 3,221. The Dow Jones Industrial Average fell 183 points, or 0.6 per cent, to 28,462. The Nasdaq gave up 60 points, or 0.7 per cent, to 8,945.
Technology, health care and communication services companies drove much of the selling Monday. Chipmaker Nvidia slid 2.2 per cent, Biogen dropped 1.3 per cent and Facebook lost 1.4 per cent.