EPA director Tim Eaton called for a conservative approach in planning for PFAS discovery and disposal.
"Polyfluoroalkyl substances (PFAS) have recently been the focus of health and environmental investigations and consequently there are emerging concerns about PFAS and the chemical characteristics of PFAS," Mr Eaton wrote.
"There is now an increased environmental regulatory focus; EPA applies the precautionary approach to the management and disposal of PFAS.
"There are currently limited options available in Victoria for managing or disposing of PFAS-impacted waste."
However, the West Gate Tunnel's builders claim they are faced with a "force majeure" event due to the discovery of PFAS, meaning they believe they can walk away because the extent of the problems they now confront was unforseeable when the contracts were signed.
Taxpayers are paying $2.7 billion to build Transurban's toll road, which will connect the West Gate Freeway in Spotswood and CityLink in the Docklands. CityLink motorists will pay Transurban tolls for an extra 10 years, until 2045, to fund the road. It is supposed to be completed in 2022.
The force majeure claim is the flashpoint in a major dispute between the builders, Transurban and the state government over who is responsible for resolving the PFAS issues, with the builders claiming changes in EPA's standards have partly led to the project's delays.
The builders also claim a more serious challenge for the project is that initial soil testing underestimated the amount of contamination, according to a source familiar with the project's negotiations.
A separate, overarching government report on the project's environmental impacts found 85 per cent of the rock and soil would be classified as clean fill, meaning it could be reused. The rest was contaminated, with 5 per cent considered severely toxic.
But insiders say vastly more of the waste is contaminated, despite the original assessment being the agreed amount when the contract was signed.
"It is significantly more contaminated," they said. "The figures in the [report] are not accurate by an order of magnitude."
This problem risks blowing out the project's price tag, and is likely to become a key point of contention in any future court battle between the builders, Transurban and the state government.
Dumping contaminated soil in landfill attracts higher rates and a hefty government levy. Burying toxic soil can cost about $500-$800 per tonne, according to estimates by engineering consultancy firm AECOM.
Technical consultants hired by Transurban warned of PFAS contamination but advised it could be managed by the tolling company.
Consultancy firm Golder Associates listed potential sources of PFAS contamination including a former petrol storage facility at Spotswood, a former textile factory in Brooklyn and areas where PFAS was used to fight a fire at the Coode Island chemical storage facility in 1991.
Loading
Their report also warned there was a high risk of PFAS contamination in groundwater along the West Gate Freeway and the M80 Ring Road.
Transurban had not finalised its plan for dealing with project's soil when the report was published, but the firm's principal consultant Andrew Kalitsis said he believed the company could manage any contamination risks.
He said there was "sufficient capacity to treat" contaminated soil, while a more detailed design phase for the project would work out how to manage PFAS, he said.
But he noted there was "little regulatory guidance" to assist with PFAS in water underground.
A government spokeswoman said negotiations over a dumping site were well progressed.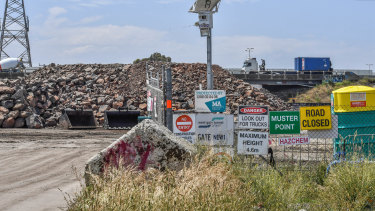 "The government has been working for months in good faith to help Transurban and its builders resolve the PFAS issue, even though it's their responsibility under the contract."
Transurban did not respond to specific questions about their own soil testing before contracts were signed or the findings of the environmental reports.
"We're continuing to work with project parties and EPA Victoria to finalise plans for tunnelling and have made good progress towards securing appropriate sites for the safe management of tunnel spoil," a spokeswoman said.
The project's builders and Golder Associates would not provide comment.
Timna Jacks is Transport Reporter at The Age