The young family of five, with three children aged 6, 9 and 12, was uninjured but has been left without presents or possessions after the massive fire gutted the home.
As the fire rose up through the roof of the Wallan home, video footage shows terrified neighbours in the street yelling, "Where are the kids? Where are the kids that live there?".
Frantic residents attempted to put out the fire with garden hoses.
Neighbour Matt Spencer said he woke up to "a lot of smoke, noise, explosions," with flames licking at nearby homes and embers floating down the street.
"You could see flames coming out of the roof, smoke and embers falling down everywhere," he told Channel Nine.
"I feel very sorry for the family. It looks like they've lost everything. But [the community] will all come together, everybody will chip in. You've got to help out people in times like this."
A late-night social media call-out on Christmas Eve by Wallan's Love In Action group has resulted in the town's community hub now overflowing with donations.
The group's organiser, Kym Puehringer-Head, had a sleepless night on Tuesday as hundreds of text messages brought offers of toys, clothing and furniture for the family.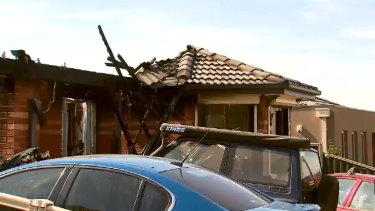 Ms Puehringer-Head said she was "devastated" for the family but was determined to give them a "positive future" after a Christmas they'll sadly never forget.
"One of the children actually turned around apparently, and said to the parents, 'Where is Santa Claus going to know where to put our presents?'" she said.
"So I kindly asked if people could spare a present underneath their tree … I've had hundreds and hundreds of text messages coming to me all night. The community gets behind us 110 per cent."