"I've got my banners ready to go, my outfit and Bulldogs wig. Come February you just want the footy back, you start counting the days. Maybe I can sneak in somehow and pretend I'm a staff member or something.
"Bulldogs against Collingwood on a Friday night, it felt like building up to a final."
Collingwood cheer squad leader Voula Bitsikas had already planned her pre-match itinerary for round 1 on Friday night.
"It's like a family normally at the matches, walking past everyone saying 'hello'. It's just not the same at home," she said.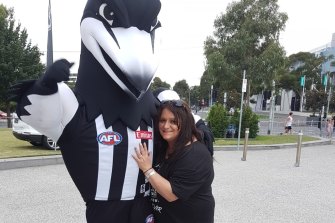 "I don't even know if we'll be able to meet at a pub to watch. There will be no atmosphere at the matches, it will be so flat. It's like 'really, do we have to do it this way?' I guess we do."
Hundreds of thousands of club members have paid hundreds of dollars each in membership fees and fans are split on how clubs should respond.
Ms Cutajar says she doesn't want a refund on her membership.
"The club can keep it as a donation, I don't expect a refund."
She and up to 30 other cheer squad members have spent up to $500 on a trip to Adelaide for their ANZAC Day match against Port Adelaide, which they won't be getting back if fans are still banned from stadiums.
North Melbourne cheer squad leader Annettee Scott said the group has also already spent several hundred dollars on their round 2 trip to Brisbane.
"It looks like we're going to go up and just have four days by the pool then watch it on the big screen. We've booked a trip down to Tasmania in round 5 too, I've given up hope on that," she said.
Ms Scott believes clubs should refund fans for matches they can't attend.
"We should get some sort of compensation. The memberships aren't cheap. Maybe the club can give us all some free matches next season."
AFL Fans' Association president Gerry Eeman said he believed fans should at least be given the option of a refund.
"I would say it's a basic consumer issue. If you pay for a service and don't get it, you should have the fee refunded," he said.
"I do think many fans will treat their membership as a donation because clubs' bottom lines will be hit, but not everyone is in a financial position to do that."
Michael is a reporter for The Age.