Twenty-first century Australia, facing the apparent plague of coronavirus, seems to offer nothing like the heroism and self-sacrifice of the villagers of Eyam. The panic-buying emptying the shelves of supermarkets sends precisely the opposite message. It's the ultimate in selfishness: I don't care who misses out so long as I and my family feel safe.
Australia may be a Commonwealth, but the idea of a common wealth on which that claim is founded has diminished over recent decades – the idea that we are jointly engaged in nation-building, that civic pride builds a better future for everybody, that sacrifices today will benefit all tomorrow. This understanding, much evident in the behaviour of many of the early settlers, is comparatively rare today, though it still exists.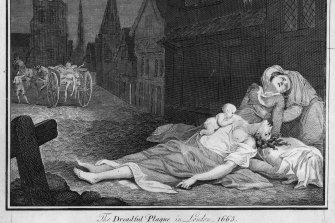 But there is something odd about human nature: the worse the crisis, the better we behave. For those who lived through it, World War II provided an obvious example, with Australians sharing a national consciousness and "doing their bit", whether fighting, nursing, keeping the home fires burning, and scrimping for the war effort.
So far, we haven't seen the best of Australians over the coronavirus – panic from the financial markets to the supermarkets. But I have faith that the more we observe the reality of what's happening – as people get hospitalised, as we have to adjust our way of life, as people fall into financial trouble and lose jobs – the best in us will emerge.
There will be far more team spirit, far more looking out for our neighbours, far more willingness to accept inconvenience, and to forgo comforts to ensure that others don't go without. War brings out the best (and worst) in people. In 2020, it is as though we are at war, even if the enemy is invisible.
Barney Zwartz is a Senior Fellow of the Centre for Public Christianity.