The federal government has not yet released an official statement but told The Age in December: "In line with Australian government policy, no one under regional processing arrangements will be settled in Australia".
An Asylum Seeker Resource Centre spokeswoman said it "has heard from the people still detained at the Park Hotel that 34 more have been told they will receive visas and be released tomorrow".
The refugees' freedom comes after a long campaign that culminated in angry protests at their former location, the Mantra Hotel, when hundreds of police, including dozens of mounted police, responded to strong opposition outside the hotel's gates in Bell Street, Preston.
Refugee Mostafa "Moz" Azimitabar, who is housed at the Park Hotel in Swanston Street and watched some of the 26 leave, said if one detainee could be freed, all 60 should be.
"I am very happy for these people who got their freedom," Mr Azimitabar said, "But the way we're all treated is very sad, very unfair.
Loading
"There is no fresh air, no windows, only glass. Instead of seeing a tree, or a view inside the city or a flower, we are watching a cement wall. It's exactly like a coffin."
For more than a year, the men had been detained in rooms on the third floor at the Mantra after being evacuated from Manus Island to receive medical treatment under the now-repealed medevac legislation.
The men are suffering a range of conditions, most commonly depression and post-traumatic stress disorder.
The federal government's contract with Mantra expired on December 31, as The Age revealed earlier this month.
Before their evacuation to Melbourne the men had been detained for up to seven years on Manus Island.
A handful of men were released on bridging visas from the Mantra and the Melbourne Immigration Transit Accommodation centre in Broadmeadows in December.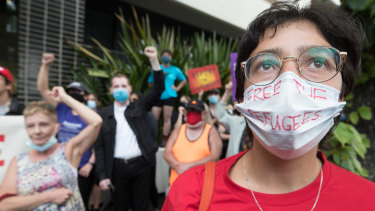 The ASRC's director of advocacy and campaigns, Jana Favero, called on the Morrison government to release the remaining 140 people being held in mainland detention who were transferred under medevac laws.
"Doctors, lawyers, service providers and the wider community have called for the release of medevac refugees from harmful conditions in indefinite detention and today the federal government finally is listening to reason," she said.
The Australian Border Force has been approached for comment.
David Estcourt is a court and general news reporter at The Age.
Rachael Dexter is a breaking news reporter at The Age.